Marin Alsop

OrchKids founding Director + BSO Music Director Laureate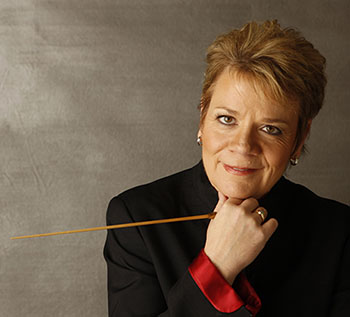 I recently caught sight of a tall young man in my kitchen and thought: Who can that be, only to realize it was my son! When did he get so tall? Where did my little boy go? I have that same mix of emotions when I drop in on OrchKids these days. When did our kids become so tall and so mature? I feel that same nostalgia for those 30 little toddlers that we started with seven years ago along with that same enormous pride at the mature young people they have become today. I could never have imagined sitting down to write this article at that time. Then, we struggled to find a home for our OrchKids dream. We spent a weekend painting a school and picking up trash and glass from a sad little playground. Dan [Trahey], Nick [Skinner] and I, optimists to the end, even wondered out loud whether we could really achieve it. So much has happened in these seven years, and I am so grateful to the legions of people who have rolled up their sleeves and jumped in to help.
OrchKids started with two simple words: access and inclusion. It is my profound belief that all human beings deserve access to great art, and that it is our responsibility to create an environment of inclusion for everyone. Playing an instrument was life changing for me as a child. Besides the obvious benefits of hand/eye/ear coordination, I learned invaluable life lessons. I learned how to motivate myself to practice, how to budget my time, that to become good at something one must consistently apply oneself, and that it is healthy and affirming to express one's emotions when channeled through playing an instrument. And then, when I started playing in an orchestra, I gained a whole new range of skills related to working with people, following direction, and understanding when to assert myself versus when to blend in with the group. Plus, it was really fun! I believe that every child should have the same opportunity that I had to develop these life skills while having fun.
As I recently watched a performance by OrchKids at Lockerman-Bundy Elementary School, I could see these skills in Technicolor. The teamwork, the mutual support, the pride, the achievement, the sheer joy in their faces – and in the faces of the audience members – brought tears to my eyes. Our children have unlimited capacity and it is our responsibility to hold that bar up high for them. Watching them clear that bar is its own reward. I don't know how many OrchKids will choose careers in music, but that isn't really the goal. My goal, as it is for my own son, is for them to see futures filled with possibility and beauty and to become good citizens of our world. How is it possible that here we are nearly a decade later with an amazing family of over 1000 OrchKids? It truly has taken a village and my deepest thanks to everyone, especially the OrchKids parents, teachers, and staff. You are my heroes.