OrchKids provides Baltimore youth with equitable access to community-based, high-quality music instruction and programming that teaches musical and social skills transferable to all areas of their lives.
I truly believe that every child is born a genius, filled with endless possibility.Marin Alsop, OrchKids Founding Director & BSO Music Director Laureate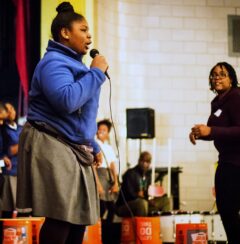 Experience
the OrchKids impact through the extensive workshops and performances we offer!
Experience More
Keep the music alive!
Support OrchKids to help us to provide Baltimore City children with mentoring, encouragement, and vision for a promising future.
Support