---
We rely on the generosity of donors like you to continue delivering
free
programming to our students. Donate today to keep the music playing!
---
---
All donations to OrchKids are fully tax-deductible within the limits established by the Internal Revenue code.
Tax ID Number Baltimore Symphony Orchestra: #52-0629696
In thanks for your support, when you give $75 or more to OrchKids we'll gratefully extend to you all the benefits of BSO membership.
View all of the benefits of being a BSO member here.
---
---
What Your Dollars Do
OrchKids General Fund
A restricted program of the Baltimore Symphony Orchestra, all gifts given to OrchKids are designated to OrchKids. That means we truly rely on the generosity of donors like you to make our program and the incredible success of our students happen! Donations of any amount are appreciated. Here are some specific examples of what your dollars can do:
$50
Pays for a one-hour long private lesson for an OrchKids student.
$250
Pays for
repairs to a string, wind, or percussion instrument.
$500
Pays for a new beginner instrument.
$1,500
Pays for one student to attend the 3-week OrchKids Summer Program.
$2,500
Pays for 6 buses to transport OrchKids students to a cross-site rehearsal.
Dorrie's Dream Fund
Dorothy Zenilman loved music and volunteered much of her time escorting school age children to opera performances and concerts in New York City. She visited her family in Baltimore often, and was a great fan of Maestra Marin Alsop. In her younger years, Dorrie also cherished her summers away at camp, in Maine. To honor her memory and incorporate all of the things Dorrie loved, Jonathan (Dorrie's son) and Carol Zenilman have created a special fund that helps send OrchKids students to the prestigious summer music program at the Interlochen Center for the Arts in northern Michigan.
---
---
More Ways To Give
In Honor Or In Memory Gifts
OrchKids creates customized contribution cards (memorial, birthday, anniversary, etc.) to acknowledge special occasions. Cards include the names of both the recipient and the donor. A minimum donation of $10.00 is requested for a gift of this type. Make an in honor or in memory gift here.
---
Information for Stock Transfer Gifts
Please call the BSO Members Office at 410.783.8124 and we will get you our up-to-date stock transfer information.
---
In-Kind Gifts
In-kind gifts can include everything from musical instruments to donated services (e.g., printing, photography, etc.) to items for use by our OrchKids students (school supplies, arts and crafts supplies, etc.). Please contact OrchKids at orchkids@bsomusic.org with any questions. All donations to OrchKids are fully tax-deductible within the limits established by the Internal Revenue code.
While we appreciate all donations, there are some items that we cannot currently accept including:
Instruments not in playing condition due to:

Missing parts

Cracks

3 or fewer strings (on stringed instruments)

Leaks or broken keys (on wind instruments)

Upright, baby, and grand pianos

Guitars

Electric Bass
---
Mail a Check
Checks can be made payable to "BSO OrchKids" and mailed to the following address:
ATTN: OrchKids
Baltimore Symphony Orchestra,
1212 Cathedral Street
Baltimore, MD 21211
Thank you for your support!
For questions or additional information on how to support OrchKids, please contact orchkids@bsomusic.org
---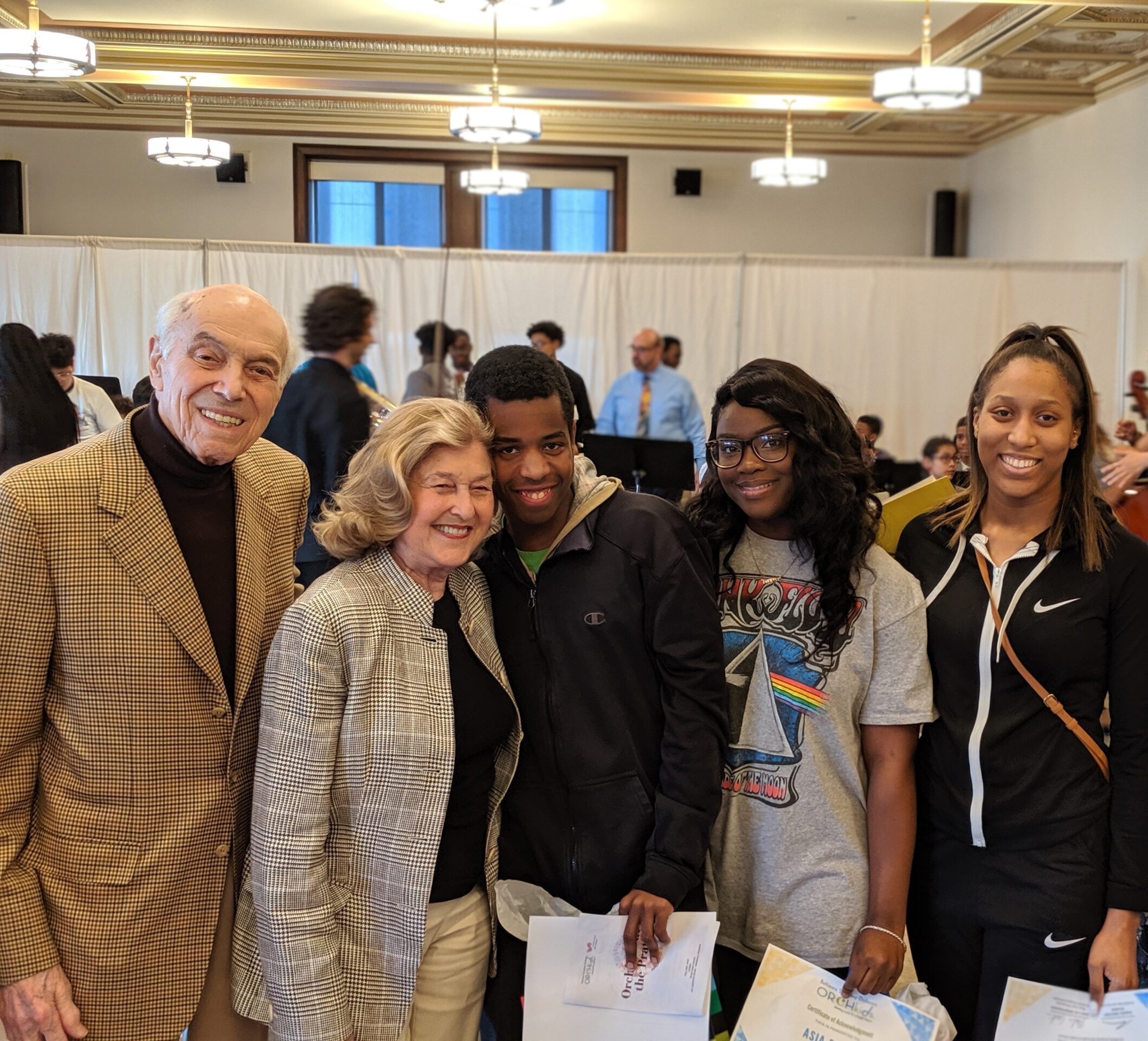 OrchKids Founding Donors
Marin Alsop, OrchKids Founder and BSO Music Director Laureate
Robert Meyerhoff and Rheda Becker
OrchKids Title Sponsors (gifts of $50,000+)
The Shelter Foundation, The Paul M. Angell Family Foundation, The Charles T. Bauer Foundation, and BGE
And with deep appreciation to all donors whose generosity makes OrchKids possible.