Christy Grace
Education Coordinator & Cello Teaching Artist
Highlandtown Elementary/Middle School #215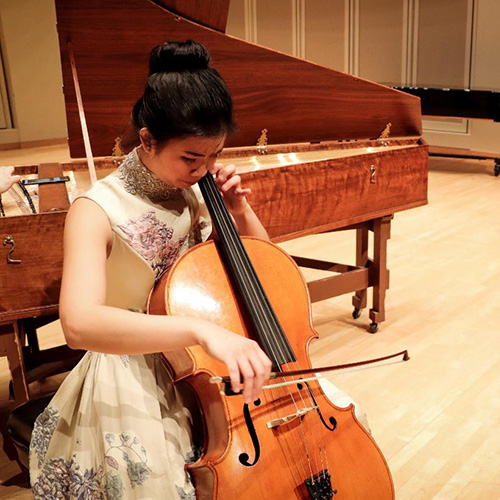 Born and raised in Indonesia, Christy Grace has been hailed as an emerging young musician from her country. She experienced a rich cultural landscape throughout her childhood as a classical pianist and came to the United States to pursue music studies as a classical and contemporary cellist.
Christy Grace embraced her role as a multicultural ambassador in music as an OrchKids Strings Fellow (inaugural cohort) of the Baltimore Symphony Orchestra (BSO) under the artistic leadership of Maestra Marin Alsop. She was also selected as one of the first Firebird Fellows of Academy for Impact through Music (AIM) 2020 of the Hilti Foundation. She is a current cohort member of The Global Leaders Program 2020-21. Professional performances include concerts and recitals in the United States, Europe (Germany, France, Italy, and Russia), Mexico (Yucatan Peninsula), and Asia (Japan, Korea, Malaysia), as well as in several major cities in Indonesia.
Christy Grace's professional interest in facilitating personal growth and community-building through music began in Jakarta with the Galilea Chamber Orchestra, where she was mentored by Diana Sutanto. Here she coached students in weekly ensemble rehearsals and performances and saw the direct impact of music and discovered her calling – to empower young students' lives through music education. Christy Grace continues this work with the Fairview Violin Project in Bloomington, Indiana where she assists Dr. Brenda Brenner in making music accessible and facilitating student transformation at a local Title 1 elementary school. From this experience, she pursued an opportunity for a String Quartet Fellowship with Community MusicWorks, a non-profit organization based in Providence, RI, and was selected as a finalist in March 2018.
Christy Grace completed a Performer Diploma at Indiana University Jacobs School of Music, studying in the studio of Eric Kim and coached by members of the Pacifica Quartet. Christy Grace earned a Master of Music in cello performance and served as a graduate assistant at West Virginia University School of Music. Together with Midas String Quartet, she was named as a national finalist at MTNA Chamber Music Competition 2016 in San Antonio, TX